Scholarships
Alexander Rutherford Application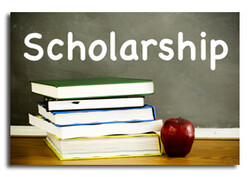 Scholarships offered at Lamont High School
Lamont Lions Scholarship
Rewards students who have provided a minimum of 20 hours volunteer work in their high school years to better the community. The student must list the accredited post-secondary education programs and institute either accepted for or currently registered in. Letters from organizations, places of work and volunteer references are required.
Two $500.00 Scholarships are available annually. Successful applicants may also qualify and apply for an additional $250 Lions Legacy Scholarship.
Selection will be made by Lamont Lions Youth Initiative Committee. Contact your school counsellor for application forms. For further information, please contact Steve Sharun at (780) 895-2165 or Bill Skinner at (780) 895-2967.
Deadline:  June 1
TD Canada Trust Scholarship for Community Leadership
Rewards students who have shown leadership in many areas including environmental cleanup, promotion of social justice, and the fight against child poverty, to name just a few. Applicants must have a minimum overall average of 75%. Each scholarship is valued at up to $70,000.00 and includes up to $10,000.00 for tuition per year and $7,500.00 a year toward living expenses.
Deadline:  October 31
Belcourt Brosseau Métis Awards (application deadline March 31)
For Métis youth and mature students in financial need who are resident in Alberta and wanting to pursue post-secondary education and/or training in Alberta. Only students entering the trades can apply year round at least one month before the program begins.
Deadline:  March 31
The Miller Thomson Foundation National Scholarship Programme
Encourages and promotes the attainment of higher educational goals for individuals who have demonstrated a high level of academic achievement, have made a positive contribution to their school through involvement in extracurricular activities, and have made significant contributions of time and energy to community service programmes. Eligibility is based on students attending a Canadian secondary school, currently in their final year of high school, and who will be attending a post-secondary institution in the Fall to pursue a course of study within Canada leading to a degree or diploma from the accredited community college or university of their choice.
Deadline:  March 15
 Education for Life Bursary
Alberta Committee of Citizens with Disabilities presents this bursary to people with disabilities at the entry level or those attempting one course to begin their post-secondary level of education. Applicants must be 17 years or older and be a member of become a member of ACCD before the application deadline. Each disbursement will be from $200.00 to a maximum of $800.00.
Deadline:  June 30
Local Scholarships
 Shell Scotford Career Technology Scholarship
Awarded to specific Grade 12 students from schools in the Strathcona County and Fort Saskatchewan areas (Elk Island School District) who will register at a post-secondary institution in a Career Technology program or an indentured apprenticeship. Scholarship is valued at $1,000.00.
Deadline:  May 30
 Alexander Rutherford
Recognizes exceptional academic achievement at the senior high school level and encourages students to pursue post-secondary studies. The scholarship is valued up to $2,500. To qualify, a student must have a minimum combined average based on five designated courses (including two non-academic courses) in Grade 10:  average of 75% to 79.9%, eligible for $300; average of 80% or higher, eligible for $400. Grade 11:  average of 75% to 79.9%, eligible for $500; average of 80% or higher, eligible for $800. Grade 12:  average of 75% to 79.9%, eligible for $700; average of 80% or higher, eligible for $1,300. Applicants apply in grade 12 and must be enrolled or applying for a full-time post-secondary or apprenticeship program.
 Deadline:  May 1 for post-secondary studies starting in September or December 1 for post-secondary studies starting in January
 EnCana High School Scholarship
Awarded to one graduating high school student within the Elk Island Public Schools Division, with payments of $2,500 per year to a maximum of $10,000.00 over four years. The scholarship in intended to assist students pursuing post-secondary education in oil and gas industry-related field through a degree, diploma or certificate program. Some examples are Geology, Petroleum Engineering, Heavy Equipment Operator, Surface Land, Engineering or Geophysics. Applicants must demonstrate solid academic performance, display community involvement or leadership, and must submit proof of acceptance and registration in a qualifying program.
Deadline:  April 1
Other Scholarship Websites:
alis.alberta.ca/et/fo/pay/scholarships.html
www.studentaid.alberta.ca/scholarships
ALIS
Alberta Learning Information Service
The Alberta Learning Information Service (ALIS) website, www.alis.alberta.ca, is Alberta's leading online gateway to information and services related to career planning, education and employment. Topics include career planning, post-secondary education and training, educational funding, student loans, scholarships, occupational information, videos and more.
As an Alberta Education authorized curriculum resource for CALM and CTS, ALIS is a highly valuable website for students, teachers and counsellors.