Scholarships
Available Scholarships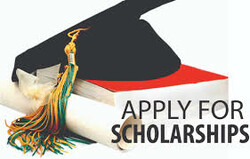 Peter Elzinga Family Foundation Scholarship
Applications for the 2020 Peter Elzinga Family Foundation Scholarship are now open. Students who plan to attend a post-secondary institution in fall 2020 are eligible to apply to be awarded up to $2,000 towards their education. Those who demonstrate financial need will be give higher priority. Full details can be found on the Peter Elzinga Family Foundation website. The deadline to apply is June 1.
ScholarTree
Scholarship season is fully underway. There is currently 7.5 Million Dollars worth of scholarships that are open for applications on ScholarTree.ca! Once students complete their profile they will be matched to all of the awards that they qualify for. 
We know now is when students start to plan for next year financially. So we wanted to remind you that there is a downloadable budget template available to everyone at the bottom of https://scholartree.ca/educators.
Please access All of our Summer Scholarships and see what financial assistance could be available. Summer Scholarship List.
Alexander Rutherford High School Achievement Scholarship
Alexander Rutherford High School Achievement Scholarship
Application forms are available from:
http://studentaid.alberta.ca/scholarships/alberta-scholarships/rutherford-scholarship/
The Morehead Cain Scholarship
http://www.moreheadcain.org/?s=scholarship
The Morehead Cain scholarship is a fully funded (tuition + room and board) four-year scholarship to one of the top universities in the world. The scholarship is available to Canadian students.  . The deadline is October 31
Schulich Leader Scholarship
 A Schulich Leader Nominee represents the top STEM student in your graduating class and in turn becomes eligible to win an $80,000 or $60,000 scholarship.
This student exemplifies at least two of the following criteria: academic excellence,leadership and financial need. Lamont High can nominate one student for application.
TD Scholarships
Click to view all scholarships from 
https://www.td.com/ca/en/personal-banking/solutions/student-advice/student-scholarships-grants-and-bursaries/
Parents Guide to Funding High Education
Please click the link for more information on https://www.higheredpoints.com/2016/09/12/new-resource-parents-guide-to-funding-higher-education/
Scholarship Websites
Students interested in learning more about some available scholarships: Please click on the link Alberta Scholarships Info
Funding and Travel Opportunities for Students
ATCO Indigenous Education Awards
Youth Ambassadors Program with Canada
Alberta Excellence in Agriculture Scholarship
Please click the view the Alberta Excellence in Agriculture Scholarship
Alberta's Apprenticeship and Industry Training
The program offers students two scholarships:
Scholarships will be awarded to registered apprentices in the year they graduate from high school. These new scholarships will triple the capacity of the apprenticeship scholarship program, rewarding more high school students who have completed the required courses.
Apprentices no longer need apply for these scholarships. Apprenticeship and Industry Training has implemented a fully automated procedure, eliminating the need for paper applications and manual processing.
In order to be eligible, Registered Apprenticeship Program or Career and Technology Studies students should log into their MyTradesecrets account (MTS) and ensure that they have provided consent to be considered for a scholarship. To check consent, students can click on the Applications tab to provide or update their consent and their SIN. If they have more than one active application, click on Details in the right‑hand column to update information.