Scholarships
Alexander Rutherford Application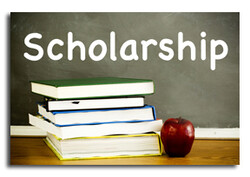 Scholarships offered at Lamont High School
May/June Scholarship Deadlines
Lamont Lions Scholarship
Rewards students who have provided a minimum of 20 hours volunteer work in their high school years to better the community. The student must list the accredited post-secondary education programs and institute either accepted for or currently registered in. Letters from organizations, places of work and volunteer references are required.
Two $500.00 Scholarships are available annually. Successful applicants may also qualify and apply for an additional $250 Lions Legacy Scholarship.
Selection will be made by Lamont Lions Youth Initiative Committee. Contact your school counsellor for application forms. For further information, please contact Steve Sharun at (780) 895-2165 or Bill Skinner at (780) 895-2967.
Deadline:  June 1
 Education for Life Bursary
Alberta Committee of Citizens with Disabilities presents this bursary to people with disabilities at the entry level or those attempting one course to begin their post-secondary level of education. Applicants must be 17 years or older and be a member of become a member of ACCD before the application deadline. Each disbursement will be from $200.00 to a maximum of $800.00.
Deadline:  June 30
 Bayer Scholarships for Students: Value: $1500 Deadline: June 10, 2020 For students in a first-year agriculture, food science, or culinary program.  Available to Canadian high school students who are enrolled in their final year of high school as of May 29, 2019 and eligible to graduate from high school in 2019. Those eligible for a must be planning to enroll at a Canadian post-secondary institution (degree or diploma) in a first-year agriculture, food science, or culinary program. Successful applicants will each be awarded a scholarship valued at $1,500, based on demonstrated academic standards and leadership in the community. Selection will be made by an independent panel.
www.cropscience.bayer.ca/en/Our-Company/ScholarshipInformation
Pat Fletcher Scholarship (Making a Difference): Value: up to $3000 Deadline: May 31, 2020. Open to any Canadian Student under the age of 25 who is in need of financial assistance for the purpose of pursuing an education at the post-secondary level. Criteria: Candidates must demonstrate a dedication to their studies with a track record of academic success, have a well-rounded lifestyle including non-academic interests and community involvement, and have an interest and ability in golf and a respect for the traditions of the game. Interested candidates should apply during their senior year of high school, outlining colleges and universities for which admission has been applied or accepted. Apply at: www.patfletcher.com/
LM Scholarship Program: AT Levitt Machinery we will be providing a $500 scholarship to a deserving student who is: currently enrolled or expects to be enrolled in a degree program (two year in length or greater) by September. Additionally, to be eligible a student must have a GPA of 3.0 or higher and summit an answer to the essay question prior to the deadline of May 31, 2020. https://studentscholarships.org/grants.php#sthash.g0T28ygJ.dpbs
Northern Alberta Development Council (NADC) First Nation, Métis and Inuit (FNMI) Bursary
The FNMI NADC bursary program provides funding for students in the form of a non-repayable bursary if you agree to live and work in the north for one year of full time employment in return for each year of bursary support received. Students must apply for the bursary for each year they want to be considered. The goal of this bursary is to assist FNMI students to obtain the skills and knowledge to enter or re-enter the workforce in northern Alberta.
Selection Process:
The FNMI NADC bursary program provides funding for students in the form of a non-repayable bursary if you agree to live and work in the north for one year in return for each year of bursary support received.
Application Deadline: April - June, 2020
https://www.nadc.ca/our-bursaries/
Trans Canada Build Strong Scholarships: Value: various Deadline: May 15, 2020. Basic scholarship criteria: Enrolled in a post-secondary institution, Located in a community near TransCanada's operations or projects, A citizen or permanent resident of Canada, Would benefit from supplementary education funding.
Pre-qualifying screening on website.
https://www.tcscholarships.com/?fbclid=IwAR1xtY5u0W72EwYGoTiYOeoZ1uDvFweYrS2xl4TswzzNFuy9wlZlSRG29HA
Global Lift Equipment Scholarship: Value: $500. Deadline: June 15, 2020. Eligibility: Must be currently attending or planning on attending a post-secondary institution no later than the Fall of 2019. Must submit a short story, detailed instructions can be found on the application page. Must have a CPA of 2.5 or greater. Apply at:
https://studentscholarships.org/college_scholarship_applications.php#sthash.cU1msrEi.j3BWYX2B.dpbs
Big Sun Scholarship: Deadline: June 19, 2020. Amount: $500 Criteria: All student athletes are eligible for this award, regardless of which sport they are participating in. The student must be a high school senior or be attending a post-secondary institute. Application: Please send us a short essay answering the following three questions: How did your participation in sports during your high school years influence you? Has your participation influenced your career goals? Has your participation influenced how you relate to your family?
 http://www.bigsunathletics.com/
Canada's Outstanding Young Farmers Program: Deadline: June 30, 2020. OYF Memorial Scholarship awarded annually to an individual pursuing post-secondary education in agriculture. This scholarship has been made possible through the foresight of one of our alumni, Martin Street (Ontario 1996). Martin's dedication to agriculture and the OYF program will help future generations to pursue their own passion for agriculture. Award: Two $1000 scholarships awarded annually. One scholarship will be awarded to an individual entering post-secondary education from high school. The second scholarship will be awarded to an individual who has already completed at least one year of post-secondary study. Eligibility: Open to any individual in Canada pursuing post-secondary education leading to a diploma or degree in agriculture. How to Apply: Each applicant will be required to fill out this application form and forward it and the other requirements to the OYF Program Manager by June 30th. www.oyfcanada.com/
Alberta Milk Never Stop Scholarship: Deadline June 30, 2020. School must refer. Value: Two scholarships of $1000 each. Eligibility: Be a grade 12 student, participate in athletic activities. Demonstrate an attitude of fair play and sportsmanship while participating in sport and social activities. Show personal development with involvement in activities other than athletics and academics, for example: com-munity work, hobbies, clubs, youth programs. Plan to attend post-secondary educational facility in Canada. Be an Alberta resident. www.asaa.ca/new/awards_milk.php
Atco Indigenous Education Awards Program:  Deadline:  July 15, 2020 Value; $500-1500
ATCO provide financial awards to Canadian First Nation, Inuit and Metis students who demonstrate leadership and commitment in their quest for higher education. ATCO is committed to supporting the development of Indigenous leaders in communities across Canada.  Eligibility:  Canadian Indigenous person, be enrolled in high school or accredited post-secondary institution or training program, preference will be given to student from Indigenous communities where ATCO has business interests.
https://www.atco.com/en-ca/our-commitment/indigenous-partnerships/indigenous-education-programs.html
ALIS
Alberta Learning Information Service
The Alberta Learning Information Service (ALIS) website, www.alis.alberta.ca, is Alberta's leading online gateway to information and services related to career planning, education and employment. Topics include career planning, post-secondary education and training, educational funding, student loans, scholarships, occupational information, videos and more.
As an Alberta Education authorized curriculum resource for CALM and CTS, ALIS is a highly valuable website for students, teachers and counsellors.